Parabolan 10ml 76.5mg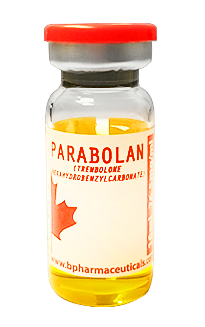 Chemical structure: 17-beta-hydroxyestra-4, 9-11-trien-3-one.
Half-Life: approximately 14 days
Parabolan represent Trenbolone Hexahydrobenzylcarbonate, commonly and informally abbreviated as Tren Hex or Trenbolone Hex. It is a longer acting esterified variant of Trenbolone, which is the most popular in the form of Trenbolone Acetate, a much faster acting esterified variant of Trenbolone. The Hexahydrobenzylcarbonate ester extends Trenbolone's half-life to the extent of approximately 14 days rather than 3 days, which is the half-life of Trenbolone Acetate. The hexahydrobenzylcarbonate ester granted Trenbolone almost the exact same half-life as the decanoate ester, as they were very similar. Trenbolone itself is a synthetic derivative of Nandrolone. This means that Trenbolone is classified as a 19-nor compound, meaning it lacks the 19th carbon that is typically held by Testosterone . Both Nandrolone and Trenbolone do not possess this 19th carbon, and they are therefore classified as 19-nor compounds. This also results in Trenbolone and Nandrolone being categorized as Progestins, meaning they exhibit Progestogenic activity within the body, and will exhibit varying degrees of interaction with the Progestosterone receptor.